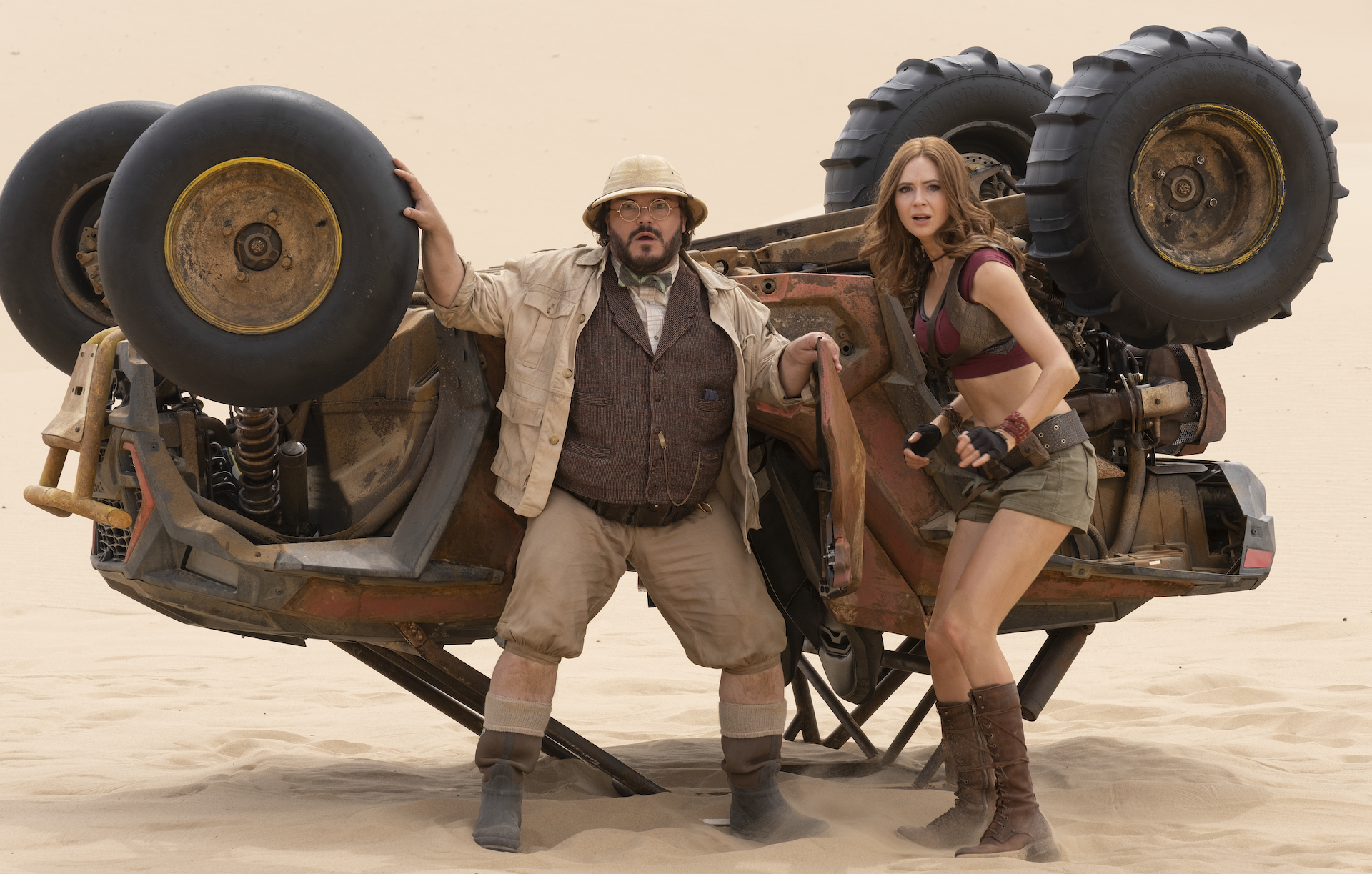 For those of us who grew up watching the original Jumanji (1995), it's hard not to feel nostalgia around the reboot that trades in a magical board game for a video game. In the original film, Robin Williams is at his peak as an actor, bringing epic humanity and humor to his work. Now the torch has lovingly been passed to Dwayne Johnson, Jack Black, Karen Gillan and Kevin Hart starting with 2017's Jumanji: Welcome to the Jungle and its current sequel Jumanji: The Next Level. Co-writer and director of the new Jumanji movies, Jake Kasdan (son of the great writer Lawrence Kasdan (The Big Chill, Raiders of the Lost Ark, Empire Strikes Back), knows how special this franchise is.
"For all us us involved," says Kasdan, "We really admire the first movie. It's a really unusual movie and when you look at it now. It has a tone that almost nobody really endeavors to go for anymore, which is almost like a horror movie for kids. It has this sweet, very emotional story at the center of it, and then there's this conceit that we grabbed onto in a different way with these movies. At the time it was this really ground breaking movie in terms of what they were doing with the effects and everything. It made a big impression on all of us, I think."
The other two writers Jeff Pinkner (TV's Lost, Fringe) and Scott Rosenberg (High Fidelity, Things to Do in Denver When You're Dead) agree.
"Another element from the original film that we all responded to," says Pinkner, "is that these kids suddenly have to deal with a circumstance that is so much bigger and beyond anything they have the capacity to deal with. It's the Cat in the Hat thing – we have to put everything back in place before our parents come home or we're really going to get in trouble. These movies, as Jake said, take the spirit of that and attack it in a different way."
Considering 2017's Jumanji: Welcome to the Jungle was so successful, the writers felt a lot of pressure to come up with new ideas for the sequel that would feel fresh and fun.
"The big idea for all of us," says Rosenberg, "was how do we tell the story again but give it a twist, make it new, make it feel like we're not just doing a sequel by the numbers."
To give the sequel a soul, if you will, they came up with two new ideas: The first is that the video game is now broken, requiring the gang to go in and fix it. The second is what they call "the old men idea" that added Spencer's (Alex Wolff) grandfather Eddie (Danny DeVito) and his buddy Milo (Danny Glover) into the mix.
"All of a sudden," says Rosenberg, "this movie had a legitimate reason to exist beyond let's make the studio a lot of money."
Kasdan honed in on the idea of having two of his protagonists, Spencer and Eddie, at very different moments in their lives, finding common ground as they both feel displaced.
"The game reaches out to both of them who sort of need this in different ways. Their separate adventures help them both and it felt like a way of continuing what we started in the first movie. It felt like one of the strongest ideas that had drawn me to it in the first place. This was a way to do that with new characters and was a major reshuffling of how the pieces work," says Kasdan.
Jumanji old and new is about self-discovery. The characters get to explore their potential through avatars but the game also has a mystical element.
"The game picks the people who play it," says Pinkner, "and associates them with avatars that will teach them something about themselves. It's borrowing a little bit of that Wizard of Oz idea. Even as simple an idea as how Bethany wasn't sucked into the game in this movie, largely because she learned what she needed to learn in the last movie. She didn't need the game and the game didn't really need her, but for the fact that she desperately wanted to go in to help her friends." When Bethany does go into the game, her avatar is a horse.
Kasdan adds, "The sort of organizing, thematic thought for us was the notion that the game finds people who need it and puts them on an adventure that will change them."
In our conversation, I suggested that as writers, it's easy to focus too much on our protagonists because we like and relate to them so much. But really it's the antagonist –or multiple antagonists –  that drive the story.
"You're entirely correct," says Pinkney. "The strength and weakness of movies is often in the antagonist so we attacked that problem in a couple ways. One is there are a couple different versions of antagonists in the film. The first is, even among our core four – and then five – we knew there were going to be conflict and antagonism because they are the characters we're spending the most time with."
The writers also thought about animal  and game obstacles the characters would have to face.
"We're making a video game movie about video games and about the ways video game adventures unfold. It's often the first wave of baddies and the second wave of baddies until you actually get to what video games call the hero level where you're actually fighting the bad guy," adds Pinkney. "In this movie it was ostriches and mandrills and credit to Jake [Kasdan] and the effect team, the creatures were realized in this movie so much better visually, three dimensionally and they're really scary."
And then there's Jurgen the Brutal (Rory McCann, who played The Hound in Game of Thrones).
Kasdan says he really wanted Jurgen to be physically bigger than Dwayne Johnson – something pretty difficult to find in an actor. Kasdan says he was really excited about his idea.
"The challenge," says Kasdan, "is that almost no one is bigger than [Johnson].  To find a really good actor who's bigger than him is incredibly difficult and we actually found the guy… He's brilliant and it's lucky he's brilliant because it's not a long list of people who can talk that way, act with subtlety, authority and hold their own with this kind of cast and also play the physicality of it. We lucked out with Rory."
Going back to that nostalgic factor, I wanted to know if there were any Easter eggs from the original Jumanji.
"Bebe Neuwirth shows up at the end essentially playing the character she was playing in the Robin Williams movie," says Kasdan. "It's something that a lot of people might not immediately realize when they see it but I also think part of our hope was that if we were going to connect to the original movie, it should be in a way that's so organic you don't need that reference immediately to appreciate what it's doing in our story."
Because Jake Kasdan's father Lawrence is so revered by other writers, I has to ask what he learned from him.
"He is my primary mentor and teacher. The very first stuff I learned about everything, primarily movies, I learned from him. His sensibility has been determinative in many aspects. We're very close, we always have been. We're very involved with each other."
As a director, Jake Kasdan has primarily made R-rated comedies like Bad Teacher (2011) and Sex Tape (2014) along with TV shows. "But it wasn't until the Jumanji movies that I had even done anything in the ball park of some of the movies he wrote. I think the Jumanji movies have descended from the classic movies he worked on a long time ago and it's been cool to work up to that a little bit. I've loved doing it."
Jumanji is currently playing in theaters.